Larry M. Hyman, Professor of Linguistics and Director of the France-Berkeley Fund at UC Berkeley, has been named Chevalier in France's prestigious Ordre des Palmes Académiques.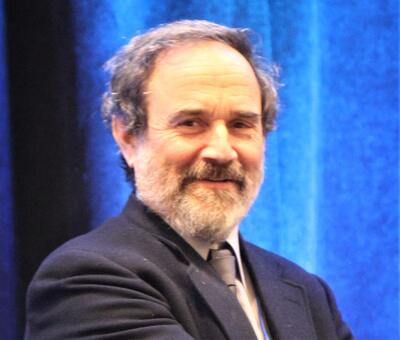 Professor Larry Hyman has been awarded the rank of Chevalier in the Ordre des Palmes académiques (Order of Academic Palms)
Hyman's award recognizes his extraordinary contributions to strengthening French and U.S. collaboration as longtime Director of the France-Berkeley Fund.
First given as an honorary title by Napoleon I in 1808, the award—among the oldest civilian decorations bestowed by the French government—acknowledges distinguished scholars and educators who have actively contributed to the promotion of French culture around the world. The Order was instituted by the French Republic in 1955 and is defined by three ranks: Chevalier (Knight), Officier (Officer), and Commandeur (Commander). Both French citizens living abroad and foreign nationals may be nominated.
Hyman completed his Ph.D. in Linguistics at the University of California, Los Angeles, in 1972. After teaching for several years at the University of Southern California, he joined Berkeley's Department of Linguistics in 1988, serving as chair from 1991 to 2002. He also served as President of the Linguistic Society of America in 2017.
His research centers on phonological theory and other aspects of language structure, particularly in Bantu and the Niger-Congo languages of Africa. He has published several books and over 120 peer-reviewed articles in leading scholarly journals.
Throughout his distinguished career, Hyman's ties to France have run deep. In addition to overseeing the FBF since 2010 alongside co-director Clément Sanchez (Collège de France), he has held several visiting positions in Lyon, Paris, and Toulouse. In collaboration with the Laboratoire Dynamique du Langage (CNRS / Université Lyon 2), he founded the Comparative Bantu On-Line Dictionary (CBOLD), originally funded by the National Science Foundation.
Hyman was part of the FBF's first cohort of grantees in 1994, collaborating on the project "Language as a Key to History" with Jean-Marie Hombert of the Université de Lyon. Their project involved joint field work in Cameroon as well as two workshops, the second of which resulted in the 600-page, co-edited volume Bantu Historical Linguistics: Theoretical and Empirical Perspectives (Stanford: CSLI, 1999). In 2002, he won a second FBF grant with Gérard Philippson (INALCO Paris) for research on linguistic philogenies in the Bantu domain.
Working in close partnership with the French Ministry of Foreign Affairs and Higher Education and Research, Hyman has championed over 300 FBF projects bringing together faculty and early-career researchers in California and France. These fruitful connections attest to the continuing impact of the France-Berkeley Fund, which has flourished under Hyman's leadership. The well-deserved honor of Chevalier recognizes the important work Hyman has done and continues to do on behalf of France and French culture.
Congratulations / Félicitations !